Where is your favorite place to shop for K-cups? I get ALL my K-Cups from Cross Country Cafe. They have really great prices to begin with, but every wednesday they have a sale called WACKY WEDNESDAY weekly coffee sale with a totally wacky sale price on a variety of coffees including Keurig Kcups. This weeks sales items can be found here.
Sale runs Wednesday April 29, 2015 through Tuesday May 6, 2015 midnight ET
Green Mountain offers a unique Kcup coffee roast for those looking to decrease their caffeine intake but, still need a bit of a pick me up- Half Caff. And the good news is…it is this weeks feature sale item. Green Mountain Half Caff Keurig Kcup coffee is on sale for $11.99 per box of 24 (the current lowest price on Amazon is $13.32)!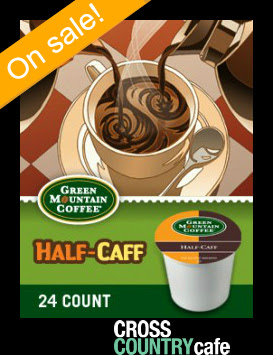 French Roast is one of our consistent top searched terms, they people want it, we have got it! Diedrich French Roast K-cup coffee is on sale for $9.99 per box of 24!
Keurig 2.0 users will be thrilled when you share a rare deal on Kcarafe coffee. Green Mountain French Vanilla Keurig Kcarafes are on sale for $7.99 per box of 4!
And for our ever growing Nespresso fans, Times Square Nespresso compatible coffee pods are on sale for $4.99 per box of 10!
Contigo mugs are a new addition to our weekly sales and your readers are loving it! This week they can scoop up the Polar White stainless steel
travel
mug for $16.99!