Where is your favorite place to shop for K-cups? I get ALL my K-Cups from Cross Country Cafe. They have really great prices to begin with, but every wednesday they have a sale called WACKY WEDNESDAY weekly coffee sale with a totally wacky sale price on a variety of coffees including Keurig Kcups. This weeks sales items can be found here.
Sale runs Wednesday March 25, 2015 through Tuesday March 31, 2015 midnight ET
Caribou Daybreak Morning Blend is on sale for $11.99 per box of 24!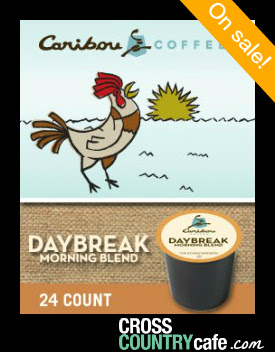 And for the tea lovers, Twinings Pure Camomile Keurig K-cup tea is on sale for $9.99 per box of 24!
Green Mountain French Vanilla Kcarafe coffee is on sale for $7.99 per box of 4!
Last but, certainly not least, Central Park decaf Nespresso compatible capsules are on sale for $4.99 per box of 10!