Where is your favorite place to shop for K-cups? I get ALL my K-Cups from Cross Country Cafe. They have really great prices to begin with, but every wednesday they have a sale called WACKY WEDNESDAY weekly coffee sale with a totally wacky sale price on a variety of coffees including Keurig Kcups. This weeks sales items can be found here.
Sale runs Wednesday December 3, 2014 through Tuesday December 9, 2014 midnight EDT.
Donut House Collection Chocolate Glazed Donut Keurig K-cups are $11.99 per box of 24!
Chocolate Glazed Donut is a combo that's hard to resist. A fresh chocolate donut, topped with a sweet, sugar glaze, dunked into your mug. All coffee. No crumbs.
and…
Diedrich Morning Edition Keurig K-cup coffee is on sale for $9.99 per box of 24!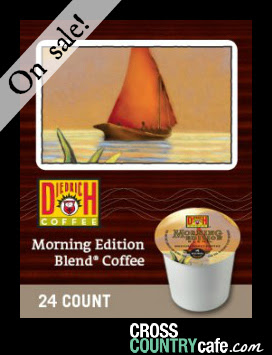 Worth waking up for, Morning Edition K-Cups from Diedrich Coffee give you a cup of full bodied medium roast Arabica coffee with hints of creamy vanilla, and leathery spicy aromas. A great way to start your day.