Where is your favorite place to shop for K-cups? I get ALL my K-Cups from Cross Country Cafe. They have really great prices to begin with, but every wednesday they have a sale called WACKY WEDNESDAY weekly coffee sale with a totally wacky sale price on a variety of coffees including Keurig Kcups. This weeks sales items can be found here.
Sale runs Wednesday December 17, 2014 through Tuesday December 23, 2014 midnight EDT
Green Mountain Butter Toffee Keurig K-cups are $11.99 per box of 24!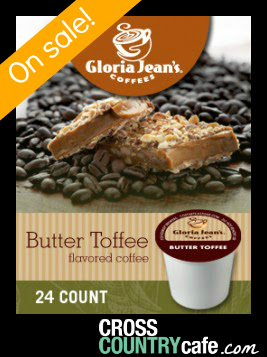 Gloria Jeans Butter Toffee Keurig Kcup coffee is a medium roast, flavored Kcup coffee. From the second you push brew aromas of caramel float through the air. This is a light bodied coffee with intense flavor. Buttery toffee compliments the natural coffee flavors. If you are a lover of flavored coffees. look no further, you have found your perfect Kcup!
and…
Diedrich French Roast Keurig K-cup coffee is on sale for $9.99 per box of 24!
If you like your coffee dark and toasty but not bitter or burnt, then Diedrich Coffee's French Roast K-Cups are just right for you. Made from a blend of Arabica beans that lend themselves to a strong dark roast, this French Roast has a touch of molasses that is deeply satisfying.
And last but not least, Broadway Nespresso compatible coffee capsules are on sale for $4.99 per box of 10.
A dark roast gourmet espresso blend with a 9/10 intensity offering sweet fruity flavors with a tart finish. This is a full bodied roast with medium acidity.