Where is your favorite place to shop for K-cups? I get ALL my K-Cups from Cross Country Cafe. They have really great prices to begin with, but every wednesday they have a sale called WACKY WEDNESDAY weekly coffee sale with a totally wacky sale price on a variety of coffees including Keurig Kcups. This weeks sales items can be found here.
Sale runs Wednesday December 31, 2014 through Tuesday January 6, 2014 midnight EDT
Tully's Hawaiian Blend Keurig K-cup coffee is on sale for $11.99 per box of 24!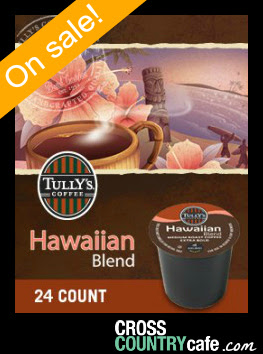 Let your imagination take you to a tropical island paradise with Tully's Hawaiian Blend Extra Bold K Cups. Containing 20% more coffee than regular K Cup portion packs, Tully's Hawaiian Blend is a medium roast coffee made from 10% Hawaiian and other fine Arabica beans using Tully's signature slow roasting process to bring out the full flavor. It makes a cup of well balanced coffee with a floral aroma, a mild sweetness and a smooth elegant taste.
And for an exceptional value…
Diedrich Rio Blend Keurig K-cup tea is on sale for $9.99 per box of 24!
Get yourself ready for a carnival with these Rio Blend K-Cups from Diedrich. This K-Cup boasts a smooth, creamy body with hints of spice, raisins and cocoa. It is a well balanced medium roast that will put you in the mood for dancing.