4.4K Flares
Made with Flare

More Info

'>
4.4K Flares
×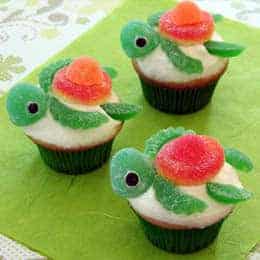 These Happy Turtle Cakes are the perfect treat for a Finding Nemo themed birthday party, as a cute way to let your little squirt know "You Rock" or to make before you head out to see Finding Nemo 3D.
| | | |
| --- | --- | --- |
| Squirt Happy Turtle Cakes | | |
Author:
Ingredients
Cupcakes
Frosting
Sour Peach Gummi Rings candies
Gumdrop candies (red and green)
Spearmint Leaves candies
Mini chocolate chips
Wooden kitchen skewer or toothpick
Instructions
Frost the cupcakes.
For each cupcake, slice off and discard the bottom half of a red gumdrop.
Place the gumdrop top on the center of a Gummi Ring to create a turtle shell.
Set the shell atop the cupcake, pressing down slightly to stick it in place.
For fins, slice a Spearmint Leaves candy in half.
Then use an oval fondant cutter to cut each half into two pieces, as shown.
Use the outer pieces for the front fins and the inner pieces for the hind fins.
For the head, use a kitchen skewer or toothpick to poke eyeholes in the sides of a green gumdrop.
Press a mini chocolate chip into each hole, using a dab of white icing to help hold it in place.
Set the head in place, again pressing down slightly so that it sticks to the frosting.
Thanks, Disney Family! 
4.4K Flares
Made with Flare

More Info

'>
4.4K Flares
×