I've talked about RedEnvelope a few times now, so you should be pretty familiar with them by now. They are an awesome source for really unique, thoughtful gift ideas and they often have great sales and discount codes to boot!
Any time I have a hard time shopping for someone, I always spend some time browsing the site because I know I'll be able to find unique Christmas gifts at RedEnvelope. It's like my go-to gift shop, not just for Christmastime, but year round!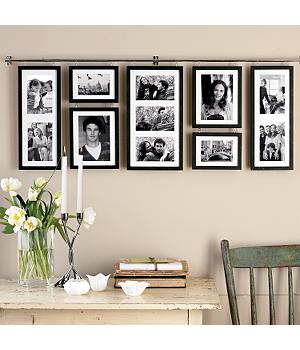 Of course, this includes finding unique stuff to decorate our new home as well.  We don't have any pictures up on our walls here at the apartment because this was always meant to be a "temporary" place to call home. No more than 3-6 months MAX while we renovated the house we bought.
Well, I can tell you we moved in when I was 6 months pregnant and Whistler is now almost 13 months old. Um – yeah. This house renovation took us MUCH longer than expected. But as we decide on finishing touches and actually see a move in date in the near future, I've been looking for nice ways to display some photos of my two favorite boys.
I found the PERFECT photo collage frame on RedEnvelope and just fell in love with it! It's called the Hall Gallery Frame Set and is designed to hold 11 photos for a collage effect.
I really love the way the frames are mounted – it's a very clean, simple effect that still has variety.  This is actually a product that is exclusive to RedEnvelope and you won't find it anywhere else (which is great because I like having things that you can't find at every mall or store, YKWIM?)
RedEnvelope was kind enough to send me one to review and I can't wait to get it up in our new home.  Unfortunately, I need to wait to get the furniture in before I can decide the best place to put this but I think I already have an idea.  We have some wall space just above our bedroom door that is the "balcony" to a small loft.  The space is already slotted for one of Ben's surf boards, but I think I'm going to claim it for my own :)
While scouting out the site for frames, I'm always impressed with the ease of navigation and ordering.  My order arrived promptly and well packaged – not a single piece of glass broken.  (I've actually ordered frames over the internet before and I'd say that 50% of the time they arrived shattered :( )  I am very happy with the quality of the frames and materials.  They are the same high caliber that I have come to expect from RedEnvelope.
Once we get in and settled, I actually plan to order at least one other frame – they make it in several different shapes and sizes – so my walls won't be so sad anymore!
PSSST… if you happen to be shopping there now, be sure to use promo code "10OFFRED" to save 10% off your order!  :)
The wonderful people over at RedEnvelope would love to give one lucky Crazy Coupon Mommy or Sisterly Savings Reader the chance to win their choice of the same Hall Gallery Frame Set that I received OR a $50 Gift Certificate to choose anything in their shop!
How do I enter?
PLEASE read and follow directions!! Must be over 18 to enter. US residents only.
Just complete the one mandatory entry below that is highlighted in the blue box – that's it!
MANDATORY ENTRY – You MUST at minimum do this 1 task to enter. If you do not do this, none of the bonus entries (if you choose to do them) will count and they WILL BE DELETED.
Visit RedEnvelope.com and then come back here and leave a comment below letting me know what you would choose if you won this giveaway!
LOTS OF WAYS TO GET BONUS ENTRIES!! (This section is OPTIONAL and just a way for you to earn extra entries into the giveaway!)

Once you have completed the above mandatory entry, you can do as many of the below as you like for extra entries
Good luck! Please leave one comment per task completed. (ie, if you do three of the following, you should leave three SEPARATE comments)
(If you already are a subscriber, follow on Twitter or like on Facebook, that counts as one entry, so be sure to leave a comment saying you already do so!)
Subscribe to Crazy Coupon Mommy via RSS Reader or email
Subscribe to SisterlySavings via RSS Reader or email
"Like" CCM on Facebook
"Like" SS on Facebook
"Like" RedEnvelope on Facebook
Follow CCM on Twitter
Follow SS on Twitter
Look at the Gold Box Deals here and then come back here and leave a comment below telling me what your favorite deal is. You can do this once daily for extra entries!
Submit this giveaway to ANY online giveaway Linky (go here for a list. choose any site listed under what day today is.) and leave a link to where you listed it! Do this daily for unlimited extra entries!
Share this giveaway on Facebook by clicking on the Share button on the pink toolbar you see at the bottom of your screen.
"Like" this giveaway on Facebook by clicking on the "Like" button on the pink toolbar you see at the bottom of your screen.
Enter any other open giveaway on my site and leave a comment saying which one you entered!
Tweet about this giveaway (just click on the retweet button at the very top right corner of this page – all the way up at the top! You can do this daily for extra entries! Just leave a comment each day you complete this task)
Become a public follower of Crazy Coupon Mommy (Scroll all the way down to bottom of this page and look for this button
Share this giveaway on your blog (or if you don't have a blog, share it on a forum you belong to (BabyCenter, WhatToExpect, Bump, etc) and leave a comment with a link to your post (this earns you 3 entries! Be sure to leave a separate comment for each!)
Got a blog or webpage? Place my link button on your site and leave the URL of where I can see it.
***IMPORTANT*** You need to leave a separate comment for each of the above that you complete. Each comment acts as one entry, so if you only leave one comment saying "I did 1-3 above" then you'll only get ONE entry instead of the 3 you deserve!
Contest will end 1/2/2011 at 11:59pm PST. The winner will be chosen randomly via computer using "And the Winner is…" WordPress Plugin or Random.org. Winner will be notified by a blog post (so be sure to subscribe to my newsletter so that you don't miss the winner announcement!). Winner must respond within 48 hours or another random winner will be chosen. Winner also must agree to submitting a video to CCM within 2 weeks after receiving their chosen bounce house.
Many thanks to RedEnvelope who provided me with product for the purpose of this review, as well as one to giveaway to a randomly selected winner. I was not required to write a positive review and no other type of compensation was received. My reviews are always 100% honest and 100% my own.